by Leandro Lucarella on 2010- 05- 12 22:48 (updated on 2010- 05- 12 22:48)
- with 0 comment(s)
¡Pero costosas!
Por un lado tal vez recuerden mi disco muerto, que finalmente hoy, después de 3 meses, hoy me han cambiado. Por un lado estoy extremadamente agradecido a Western Digital porque me reconoció la garantía de un disco que estaba claramente fuera de los términos, creyendo en mi buena fe. Pero por otro me queda un gustito amargo por lo... no sé como explicarlo, ineficientes tal vez, que han sido manejando las cosas acá (por la empresa ISS).
Si bien siempre fueron muy amables, me hicieron dar cincuenta mil vueltas innecesarias. Diciéndome una y otra vez que el disco estaba fuera de garantía, cuando yo me puse en contacto con ellos unas vez que WD aceptó mi disco, y a pesar de haberles pasado el número de incidente en reiteradas ocasiones. Todo se solucionó cuando me pasaron un teléfono (0-800-444-0839, ténganlo porque les puede ser útil) para hablar directamente con WD y todo lo que tuve que hacer fue pasarle el número de incidente donde lo aprobaban y listo. Pero después de eso ISS me seguía diciendo que no tenían aprobación para recibirlo.
Finalmente me lo terminaron tomando, según ISS de onda. No sé que pasó, si realmente fue un mal manejo de WD (me resulta raro porque siempre que hablé con ellos me dieron el OK en horas) o si los de ISS son unos panchos (me inclino más por esto), pero lo bueno es que ya tengo mi reemplazo en la mano (todavía no lo probé pero al menos no vino golpeado XD).
Por otro lado tal vez recuerden mi sesión de terapia abierta al público rant sobre la casa de azulejos de reposición Cepillo, también luego de tres meses hoy logré que me devuelvan la plata. Sin comentarios sobre esto, ya dije todo en el otro post.
by Leandro Lucarella on 2010- 01- 31 05:37 (updated on 2010- 02- 13 22:07)
- with 3 comment(s)
Luego de una semana entera quemando DVDs para hacer backup del disco como si no hubiera un mañana, el sábado a la mañana fui con mi disco rígido y mi linda factura a reclamar la garantía, con esa mezcla de esperanza y de fatalismo al mismo tiempo. Esperanza porque todavía está en garantía y fatalismo por lo de cambio de firma y porque en general que te tomen una garantía nunca es fácil
Hora y cuarto de viaje, llego 15 minutos antes de que cierren (con un poco de sensación de éxito por haber logrado llegar en horario =P), le doy el disco y me hacen la gran Mutombo. El tema es que el disco tenía un golpe en una esquina, vino así cuando lo compré y como un boludo inocente, le pasé un badblocks y un test del S.M.A.R.T. y como pasó todo no dije nada.
Moraleja: jamás aceptar algo golpeado por más que ande porque después te metés la garantía en el upite.
Todavía me queda probar directamente en Western Digital, que parece que tienen un representante acá que hace los RMA, pero todo el proceso se hace desde la web oficial de WD y te dicen que lo mandes por correo todo empaquetado para que lo manden a USA, y la verdad que hacer todo ese circo para que me digan "nou, flacou, tu discou está golpeadou" es medio al pedo, así que el lunes veré si puedo averiguar algo llamando, pero me veo mal. Al menos encontré un caso de éxito en un foro (pero claro, su disco seguro no estaba golpeado -.-).
Igual descubrí que el disco tiene sectores de repuesto por si se caga alguno. El tipo te mueve el sector roto a uno de "repuesto" solo, pero solamente cuando escribe (no cuando lee). Probé de sobreescribir uno de los archivos que tiraba error de lectura y se arreglo. Claro que es una gran cagada porque la confiabilidad del disco se fue al tacho, pero al menos si no aumenta mucho la cantidad de sectores rotos lo puedo seguir usando como un disco para guardar boludeces que no me molestan mucho si las pierdo.
En fin, espero que WD se copé y me lo cambie :S
Volver a mi disco IDE donde tenía la partición root antes de reinstalar Debian por la nueva compu (pasé de 32 bits a 64) no fue trivial, tuve una lucha contra mkinitramfs de un par de horas hasta averiguar por que no me podía montar el rootfs que está sobre un LVM. El tema era que el initramfs no se avivaba que ahora tenía que cargar el módulo IDE en vez de SATA, así que tuve que agregar los módulos a mano, pero costó.
Update
Luego de pedir soporte a WD por la página web (mandando fotitos del rígido y toda la lola, me informaron que me iban a tomar el RMA de todas formas =). Todavía no tengo el disco nuevo en mis manos (ni siquiera mande el roto todavía) así que no canto victoria pero es un gran paso.
200 cool points para la gente de WD.
by Leandro Lucarella on 2010- 01- 25 23:56 (updated on 2010- 01- 25 23:56)
- with 0 comment(s)
Si fuera gracioso podría poner esto en el Failblog bajo el título HARD DRIVE FAIL.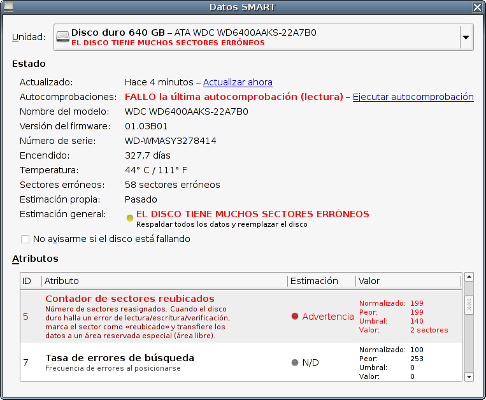 Lamentablemente no tiene ninguna gracia, al menos para mí =P, pero al menos comprobé que el GNOME se está volviendo muy pillo para informar cosas al usuario. ¡Bien por él!
La buena noticia es que se supone que el disco está en garantía, la mala es que es en la otra punta de la capital de luntes a juércoles de 9:3.14 a 9:π (aunque está todo por verse porque el lugar donde lo compré se llamaba Abelyn pero eso ahora te manda a una interfaz de administración de algún hosting perdido; pero parece que cambió de nombre a PC Retail y que me toman la garantía igual; veremos cuando termine de hacer backups y lo lleve...).
Casi que aplacó por completo mi alegría de haberme decido y comprado un lindo combo Intel DG41RQ+Q8400+2GiB, que todavía no pude casi usar porque estuve todo el fin de semana moviendo gigas y gigas de acá para allá.
(Re)Instalando Debian me topé de nuevo con el bug que hace que todas las fuentes en QT se vean como el traste. ¡Grrrr! ¡Como lo odio! [*].
[*]
Tip rápido, desinstalar los paquetes

ttf-arphic-uming

y

ttf-wqy-zenhei

y voilà.