by Leandro Lucarella on 2011- 08- 01 01:21 (updated on 2011- 08- 01 01:21)
- with 0 comment(s)
Uno lee que Mauri ganó por casi un 65% y parece que realmente el 65% de la gente que vota en CABA está realmente convencida de que quiere que Mauri sea jefe de gobierno 4 años más.
Pero para mí esa es una lectura extremadamente mentirosa de los números, por varias razones. Primero, esto es segunda vuelta, así que la gente básicamente vota si es Anti Macri o Anti Filmus (y en este caso casi diría que más Anti Cristina que Anti Filmus). OK, tampoco es exactamente "anti <el opositor>", porque está incluída la idea de que se prefiere que sea jefe de gobierno uno por sobre el otro, pero igual es muy diferente de querer al candidato, es más un descarte. Si realmente quería que uno u otro sea jefe de gobierno se votó en primera vuelta, y Macri sacó sólo el 45%.
Y acá viene el segundos punto: el 45% (en la primera vuelta, y 65% en la segunda) es sobre los votos positivos. Esto no tiene en cuenta ni votos en blanco, ni impugnados, ni nulos ni gente que no fue a votar. No tengo los datos de la primera vuelta a mano, pero los de la segunda sí, y los verdaderos porcentajes (tomados cuando estaba aproximadamente el 97% de las mesas escrutadas) son los siguiente: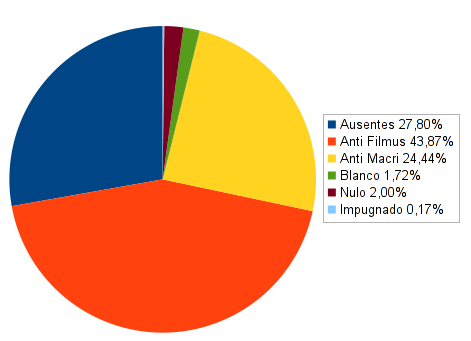 Es decir, según mi visión, y al contrario de lo que nos quieren vender, la mayoría de los porteños no prefieren que esté Macri de jefe de gobierno por sobre Filmus (o expresar su desacuerdo con ambos o el sistema), sólo algo menos del 44%. No deja de ser un porcentaje alto, es cierto, pero al menos es un panorama bastante más soportable que pensar que el 65% de los porteños están enamorados de Macri, que suele ser la interpretación más común de estos números. Lo loco es que casi un tercio (32%) , no quiere a ninguno de los dos.
by Leandro Lucarella on 2011- 07- 05 20:53 (updated on 2011- 07- 05 20:53)
- with 0 comment(s)
Desde hace un año que no se actualiza la lista de multas impuestas (¿o directamente se suspendieron las multas?), desde hace 6 meses que no se publican boletines.
¿Qué onda, ex-Bigote? ¿Los consumidores no son bienvenidos?
by Leandro Lucarella on 2010- 01- 12 12:22 (updated on 2010- 01- 12 12:22)
- with 0 comment(s)
No es un tema nuevo, pero merece toda la difusión posible. Cito una nota del Página 12:
Los veintiséis pesados de Macri

Se especializan en desalojar a indigentes de espacios públicos y de edificios. Su característica es "tener calle", su legalidad es tenue, sus uniformes son oscuros y sus acciones ya terminaron en la Justicia por varias denuncias.
Habla de la UCEP, o Unidad de Control del Espacio Público, algo así como un grupo de tareas encargado de limpiar a la gente en situación de calle.
Acá les dejo un video tristísimo pero muy claro:
Y acá les dejo otro que se toma las cosas con un poco más de humor pero que no es menos aterrador: