by Leandro Lucarella on 2011- 05- 05 03:46 (updated on 2011- 05- 05 03:46)
- with 0 comment(s)
¡Tomá!
Todavía no tengo mi título pero ya soy EGRESADO.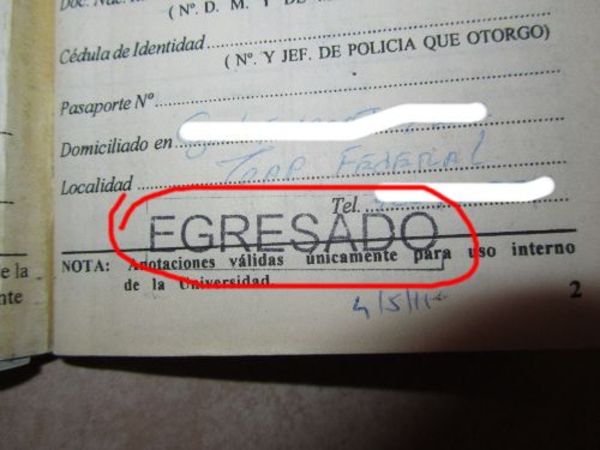 by Leandro Lucarella on 2010- 11- 13 23:43 (updated on 2010- 11- 13 23:43)
- with 0 comment(s)
No hablo de esto. Hablo de la copia del título secundario.
Para empezar el trámite del título, la UBA pide una copia legalizada del título secundario (si, otra). Como no tenía ninguna, tuve que ir a Uriburu 950 y como encontré poca información al respecto, comento mi experiencia a modo de un nuevo servicio a la comunidad...
¿Qué hay que llevar?
Título secundario original.
Tantas (foto)copias como quieran legalizar.
$3 por cada copia que quieras (o te dejen) legalizar.
¿En qué consiste el trámite?
Ir a Uriburu 950 de lunes a viernes de 11 a 16 hs.
Bajar al subsuelo, a donde se hacen las legalizaciones.
Sacar número.
Ir a esperar a que toque nuestro número.
Entregar el original y copia del título en ventanilla cuando toca el turno.
Con el talón que entregan en el paso anterior ir a la caja y pagar.
Esperar a ser llamado por nombre y apellido para recibir el original y copia legalizada.
Tips e información útil
Esta es la papa del post =)
Las indicaciones para llegar no son espectaculares pero prestando un poco de atención y buscando cartelitos se llega (los carteles están, pero son chicos).

Hay 2 lugares para esperar, uno chico cerca de las ventanillas, un poco escondido y uno más grande, más a la vista pero apenas más alejado de las ventanillas. Dependiendo de la cantidad de gente, se puede ir a la grande o a la pequeña. En la grande cada tanto viene una persona y pide que la gente con número hasta un N dado pase a la sala pequeña.

Observar bien el número porque originalmente es de dos cifras pero agregan una a mano adelante. Yo tenía el 478 e iban por el 362 cuando llegué, y al no ver el 4 inicial pensé que me faltaban solo 16 números =P

En general el número de caja que se indica cuando te toca el turno no sirve para nada, hay que ir a la ventanilla libre.

Se supone que entregan 500 números por día SIN EXCEPCIÓN, pero cuando fui yo entregaban números con serie 500 (¿tal vez no empiezan del 0?).

Vayan tarde, las 14 ~ 14:30 es el horario ideal. Yo fui tipo 13:20 y tuve que esperar alrededor de una hora y diez minutos en total. La gente que cayó después de las 14 esperó mucho menos. Tal vez se corre el riesgo de que se queden sin números si van muy tarde, a mí me tocó el 478 y cuando me iba estaban por el 530 aprox. Así que yo creo que es bastante seguro llegar tipo 14 ~ 14:30.

Los números avanzan a una tasa de 1 cada 30 segundos en promedio. Es decir, unos 20 números cada 10 minutos. La estimación es muy buena, yo la calculé cuando llegué y me fui casi exactamente a la hora que predije usando ese cálculo =P

Si tienen que ir temprano por alguna razón pueden usar esta cuenta para salir a pasear un rato porque van a tener (probablemente) mínimo una hora de espera =D

Una vez que te toca el número, tardan unos 15 ~ 20 minutos más en darte la copia legalizada (en llamarte por apellido).

Se rumorea que se pueden legalizar hasta 3 copias pero a mí me dejaron legalizar sólo una porque "depende de en que etapa de la carrera estás", dijeron.
¡De nada!
by Leandro Lucarella on 2009- 11- 19 15:26 (updated on 2009- 11- 19 15:26)
- with 0 comment(s)
El viernes 13 de noviembre de 2009, en el Consejo Directivo de la FIUBA (Facultad de Ingeniería de la UBA, por si anda con fiaca de seguir links), un animalito llamado Edgardo Romano, coordinador del Área Inserción Laboral y Pasantías de la SEUBE (Secretaría de Extensión Universitaria y Bienestar Estudiantil) y miembro de la agrupación El Gradiente, golpeó sorpresivamente a un estudiante durante la sesión para elegir Decano. Lamentablemente (para él), quedó grabado en un video.