by Leandro Lucarella on 2009- 10- 29 15:37 (updated on 2009- 10- 29 15:37)
- with 1 comment(s)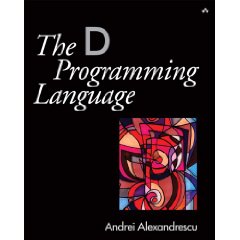 The version 2.0 of D will be released in sync with the classic book titled after the language, in this case, The D Programming Language, written by the Andrei Alexandrescu. You can follow the progress of the book looking at his home page, where a words and pages counter and a short term objective are regularly updated.
He posted a little introductory excerpt of the book a while ago and yesterday he published a larger excerpt, the whole chapter 4 about arrays, associative arrays and strings.
If you don't know much about D, it could be a good way to take a peek.