by Leandro Lucarella on 2010- 11- 28 05:48 (updated on 2010- 11- 28 20:51)
- with 0 comment(s)
Bueno, ya estoy un poco recuperado de la maratón recitalística, así que voy a tratar de resumir un poco mi experiencia, antes de que lo olvide todo.
Vamos por orden cronológico.
Llegué un poco después de las 16:50, hora en que comenzaba el show de Brian Storming en el escenario "No sé para que lo pongo si el sonido está como el orto y no se escucha nada por queda completamente tapado por el sonido de los escenarios más grandes". Bueno, los organizadores lo llaman simplemente "CARPA EMERGENTE", supongo que es por razones de marketing.
Lo muchachos (que para mí son altamente recomendables) hicieron lo que pudieron (como los demás que tuvieron la desgracia de sufrir ese escenario, realmente es una falta de respeto invitar a una banda en esas condiciones, pero eso ni pongas ese escenario...
De fondo sonaba Cobra Starship que realmente me parecieron (musicalmente) lamentables, banda popera MAL, pero así onda 'N Sync, pero de actitud buena onda, el tipo hablaba muy bien castellano y arengaba mucho (creo que hubiera ido mejor para el día anterior en el que tocaban todas las bandas maracas fiesteras). Pasé por el escenario a ver que onda (y porque al lado estaba la carpa de la cruz roja y tuve que manguear una curita porque tenía una ampolla en el pié) pero aguanté pocos minutos y como no había nada tentador me volví al escenario "No sé para que lo ...", digo, a la "CARPA EMERGENTE" a ver que había.
Lo que había era Wapaq, un trio raro de música "electrónica" con batería, guitarra y un muchacho con una consolita o algo de eso. Le ponían onda, y a pesar de no ser el tipo de música que más disfruto, estaba bien. Bah, bien mientras tuvieron sonido, la mitad del recital se quedaron sin la consola y guitarra. El pobre batero la piloteo solo, dándole duro. Nadie les dio una mano con nada (a simple vista al menos) y el guitarrista terminó arreglando los problemas, pero se había acabado el tiempo. Por lo que entendí, la banda que venía atrás, Los Coholins, se coparon y les dieron unos minutos de ellos para que se puedan despedir al menos con una canción con toda la instrumentación. Bien por los Wapaq que la tuvieron que remar e hicieron la última canción poniéndole mucha onda.
Los Coholins parecían prometedores, mucho disfraz bizarro, pero resultaron, a juzgar por los 15 segundos que me quedé a escucharlos, unos Auténticos Decadentes. Perdonen muchachos por el injusto prejuicio en 15 segundos pero empezaba Massacre, que no es una banda que me fascine pero que nunca había visto y me daba la impresión de que podría ser entretenida de ver en vivo. No me equivoqué. El gordo Walas es un personaje importantísimo. Se la pasaba tratando al público como una minita que se quería levantar en un boliche (decía "Hola, preciosa!", por ejemplo) y metiendo bocados delirante entre canción y canción. También tenían un muñeco tipo bebote de juguete bastante creepy y una especie de bastón-cruz con una cabeza de otro muñeco bizarro en la punta. En fin, particulares los muchachos, pero buen show.
Luego seguí con mi calendario oficial y me fui a ver a Benjamin Biolay. Tipo raro, parecía como una persona muy tímida tratando de hacerse la desinhibida; eso combinado con un tipo cool, pero no en el sentido de usar anteojos negros y estar a la moda, si no de todo lo contrario, de estar en la suya y no importarle lo que opinen los demás. La verdad que escuché poco de él, lo conocí por un video con Chiara Mastroianni que me resultó agradable en exceso (tanto el video como la canción). Fue suficiente como para escuchar un par de discos y me resultaron buenos pero nunca le presté demasiada atención. El show fue incrementando en energía e intensidad empezó con temas más bien sencillos y alegrones como el del video y terminó con temas más densos e intensos, como À l'origin (en una versión mucho más intensa que la del disco) que finalizó muy pulenta con el benjamín gritando enfurecidamente À l'origin!.
Siguiente parada: Stereophonics, que empezaron con palabras en perfecto castellano argento pronunciadas por el baterista, que me desayuné ahí mismo que es argentino. Los vi de bastante más lejos de lo que me hubiera gustado y estuvieron en una postura mucho más rock clásico de lo que esperaba. Yo la verdad que el disco que más escuché fue Just Enough Education to Perform que es más tranqui y elaborado. De ese disco tocaron Mr. Writer y el hitazo Have a Nice Day y fueron probablemente los temas que más disfruté.
En el intervalo sin bandas de mi calendario, escuché a lo lejos el show de Catupecu Machu, sentado descansando las patas, que desde su ingreso al mainstream me tiene sin cuidado. Dentro de todo es una banda por la cual tengo una cierta simpatía y creo que tratan de hacer cosas copadas tecnológicamente, pero tienen un estigma tercermundista que hace que me terminen resultando insulsos. Lo único realmente bueno de Catupecu para mí, es su primer disco (Dale!), en el cual eran todo lo contrario, eran primitivos, crudos, completamente transparentes y viscerales (bueno, Cuentos decapitados es un disco que, aunque un poco más elaborado, está bien igual, creo que la decadencia definitiva se produce cuando se va el batero). De Dale! hicieron justamente el tema homónimo que también me resultó el más atractivo.
Volviendo a la agenda programada, venían los Thievery Corporation, de quienes había escuchado un poco hace tiempo pero tenía la impresión de que era una especie de colectivo de DJs. Era una banda nomás (o lo que vino fue una banda :) y de nuevo se escuchó una voz con perfecto castellano y claramente argentino, pidiendo la participación de los porteños. Estuvo bien, banda más para bailar que para escuchar, pero en vivo estuvieron bien, aunque me terminó aburriendo un poco. Y es todo lo que voy a decir sobre ellos, y que terminaron anunciando al plato fuerte de la noche.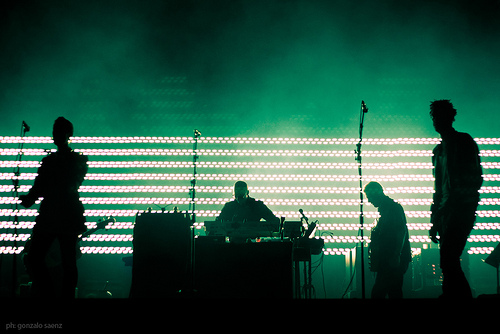 Massive Attack. Realmente es muy complicado explicar lo que es un show de Massive Attack en vivo, tan complicado, que cuando volví tuve que describir mi estado con un video y que ahora voy a citar a la gente de Stay Free para dar otro (muy buen) resumen de lo que es:
De repente siento que estoy totalmente relajado flotando en el mar, con un cielo azul a pleno totalmente (¿confortablemente?) adormecido y sereno. Floto, floto y floto cuando de repente me golpe una ola, me hunde, me hace dar mil vueltas en el agua y luego de jugar conmigo me deja tirado en la orilla y yo no puedo describir lo que me acaba de pasar.
La sensación es un poco esa, es como un tornado que pasa y que te deja culo para arriba, prenguntándote que carajo pasó... Por momentos caes en el ojo del tornado y todo parece tranquilo, pero cuando menos lo esperás, pum! Te levanta de nuevo por el aire y te llevan a un lugar completamente distinto. Es realmente indescriptible. Pueden leer algunos detalles más del show en la nota de los stayfree-boys. Con respecto a los número y noticias locales, es notable lo bien asesorados que están los tipos, y como usan la ironía. Luego de pasarte número de cuanto es el gasto militar de Argentina, cuanta gente pobre hay, etc., te baten un "Aguante Argentina" y te quedás pensando. Ojo que la autocrítica no falta, en otro momento pasaban cual es la máxima cantidad de tiempo que te pueden tener detenido en distintos países legalmente sin explicaciones, y mientras la mayoría de los europeos están en menos de una semana, en UK eran unos 45 días, y en USA, obviamente, tiempo indeterminado. O sea, te das cuenta? Estuve en un recital leyendo todo eso. Los tipos te trabajan a todos los niveles, es una invasión a todos los sentidos, te trabajan todas las regiones del cerebro.
Finalmente, al otro día, me quedaba Pavement en La Trastienda (porque evidentemente no convocaron tanto como para un Luna Park. Me costó ir, ya estaba un poco saturado de tanto recital, de hecho llegué tarde :S (aunque eso fue culpa del 93). La verdad quedé un poco decepcionado porque tocaron poco, (menos de una hora y media calculo. Yo tuve una hora y monedas de show gracias a la llegada tarde y unas dos horas y media de viaje :S
El show igual estuvo bueno, aunque viniendo de Massive todo se complica. La Trastienda está bueno igual para ver bandas así más de ruaaack. Los tenés ahí a los tipos. Habían varios pendejitos haciendo mosh que se subían al escenario al lado de los tipos. A veces se sorprendían un poco con la energía del público :).
En resumen, una semana movidita, terminé un poco molido y la verdad que creo que a Pavement lo disfruté menos de lo que esperaba gracias a ello. Bandas, cópense y venga un poco más espaciadamente, no caigan todas la misma semana...